Lets be honest, there is something special about an anime girl with glasses. They look adorable and some of these characters have amazing superpowers.
Here is a list of 15 anime girls with glasses you will definitely have a crush on.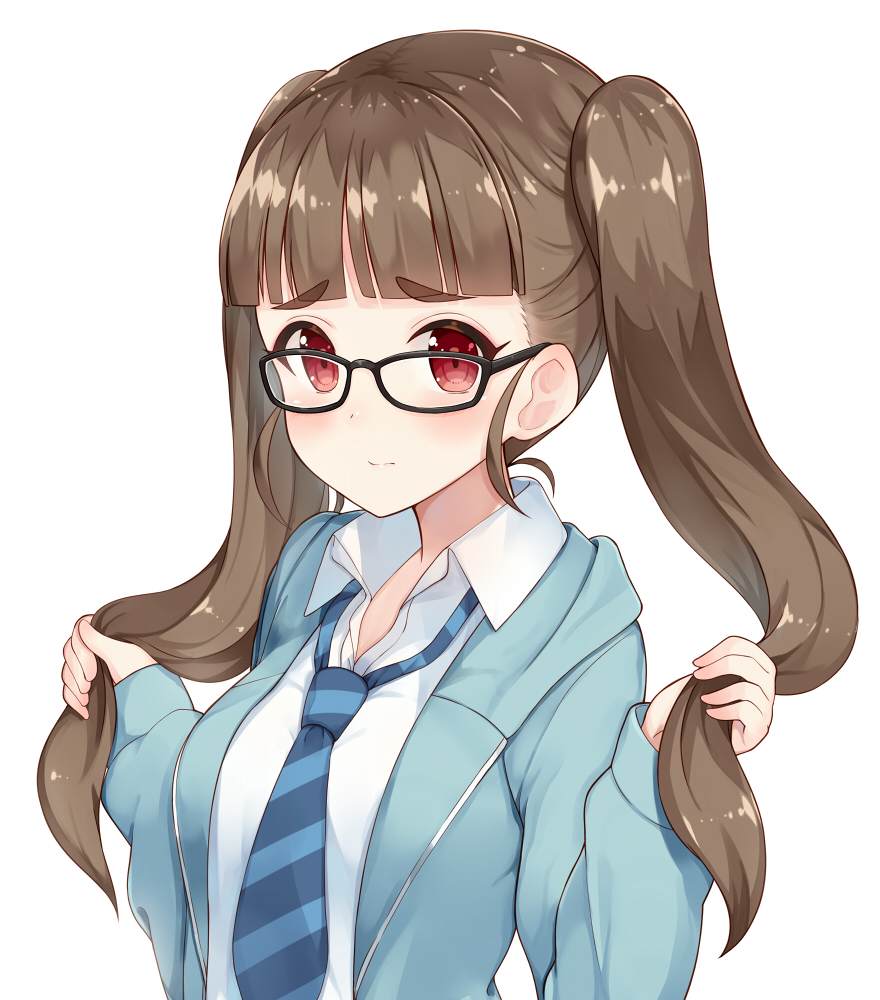 The meganekko, or anime girl with glasses, is a common anime character in Japanese animation. The characters are cute and easily recognizable by her frames.

You will find the anime girls with glasses as a happy mixture of beauty and brains. Usually found quiet or shy, a meganekko may sometimes reveal a wilder side behind her glasses. Anime girls with glasses can also signify intelligence and even power in certain anime series.

Let us look at some of those anime girls with glasses and you are sure to stumble upon some cute, shy and serious girl crushes.
Shino Asada (Sinon) from Sword Art Online II
One hell of a gamer girl! Shino Asada features in Sword Art Online in its third season, SAO II. Her character is smart and responsive. Although, her in-game character doesn't wear the glasses she needs in real life. Similar to most of the anime girl with glasses, Shino is cool and calm, appearing strong. However, she hides a traumatic past and a kind heart that is glimpsed from time to time.
Homura Akemi from Mahou Shoujo Madoka★Magica
Homura is recently transferred to Mitakihara Middle School, after a long hospital stay. She is academically bright and friendly, but except for Madoka and the other magical girls, she is timid and prefers to be left alone.
Homura's fighting style as a magical girl defensive rather than pure offense, and she fights with an impenetrable shield. She gradually develops her own daunting skills and by the end of the series, Homura becomes powerful enough to protect her friends on her own.
Nodoka Manabe from K-On!
Nodoka is a close friend of main lead Yui Hirasawa, and is a mature and sensible one on the student council, and later becomes its president. Even though, she is frustated by less responsible students but is willing to help them fix their mistakes.
A skilled and gifted homemaker, Nodoka is sometimes swamped by the goals she sets for herself, and relies on her friends to keep her sane. She has a passion for travelling even with a terrible sense of directions.
Koyomi Mizuhara from Azumanga Daioh
Koyomi Mizuhara is one of the most popular anime girl with glasses. She was known as Meganekko until her name was revealed in the second volume of the manga. Koyomi is a proud, intelligent and considers herself more mature than her other high school friends. She usually comes under a serious meganekko, but also has a mischievous side. She can also be a bit superstitious for her grades, and she has a knack for sweets.
Mirai Kuriyama from Kyoukai no Kanata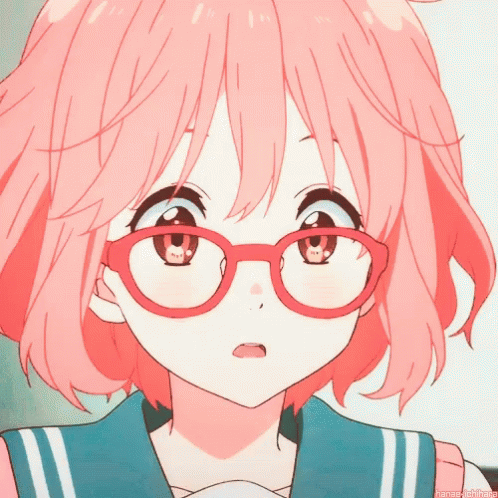 The main lead in Kyoukai no Kanata (Beyond the Boundary) is just as mesmerised to glasses girls as many of the viewers, and looking at Mirai Kuriyama, it isn't surprising. Mirai is cute, shy and reserved, and keeps to herself and blog about her beloved bonsai trees.
Under her loose dresses and glasses lie a stronger side: Mirai is from a secret society of warriors aimed at striking down the demonic youmu. She uses her own blood as a weapon with the grisly power of hemokinesis.
Yomiko Readman from Read Or Die
Yomiko Readman will surely pop up if you search for anime girl with glasses. She is a nerdy, socially awkward, girl who literally hundreds of books. Gifted with an ability to control paper, creating human-sized paper airplanes to stopping bullets with notecards, she has skills for a secret agent with the British Library. Though her trusting and amiable personality hinders at her undercover work, she is a brilliant fighter. She can literally overcome her opponents with paper weapons. This anime girl with glasses comes with incredible talent of paper art.
Nina Einstein from Code Geass: Hangyaku no Lelouch
Besides being a shy and timid girl, Nina is openly racist toward the conquered Japanese, or "Elevens" after the Britannian name for their country. She also becomes highly obsessive, due to a series of terror incidents which help excel her toward a career in military physics.
Don't be fooled by this anime girl in glasses even though she may seem calm and polite. Beneath her bookish looks, lies the inner effect of ugliest wars.
Shizuku from Hunter x Hunter
Shizuku is another of those anime girl with glasses whose appearance and behavior hide a ghastly side. She is the eighth member of the Phantom Troupe, a gang of professional thieves. She rather pretend immature and silly for her age. Hides behind those glasses are her killer looks as she possesses powerful deductive skills, and is an emotionless killer with a magical vacuum cleaner as her murder weapon.
Sheska from Fullmetal Alchemist
Once a librarian with the National Central Library, Sheska was fired after getting caught reading instead of working. Her addiction to books makes her practically unable to hold down a job. Similar to other meganekko, Sheska is quite shy, but her shyness is the result of repeated failures. However, she has the astounding ability to recall anything she has read, which comes handy for protagonists Edward and Alphonse's search for the Philosopher's Stone.
Maiko Oogure from Kill la Kill
Maiko is an ordinary student of Honnouji Academy, living in absolute poverty and terror. She makes a shy anime girl with glasses who lacks in confidence yet ready to sacrifice herself for her friends. She quickly befriends Ryuko and Mako on the way to school during the chaos of No-Late Day. Ryuko is just as often in danger from rescuing Maiko as from the Student Council's evil traps. Maiko being a skilled driver, finally gains confidence when she returns Ryuko the favor with an armored bus.
Lettuce Midorikawa from Tokyo Mew Mew
While in western series, it is a trend for a shy, nerdy girl to lose her glasses when she becomes more outgoing.This may be less common among meganekko, but it's not unheard of. Lettuce Midorikawa embodies this pattern; although she is originally timid and easily bullied, in her super-powered Mew form she comes out as confident and capable. Even with a porpoise DNA and power over water, she attempts to solve problems with diplomacy.
Yumi Azusa from Soul Eater
As the glasses implies, Yumi has an intelligent mind and a photographic memory. She's an information gatherer and has an ability of Thousand-Mile Eyes, which allows her to see over large distances.
Yumi is quite serious about her job and career, and is almost never seen smiling. She also treats fellow graduates of Death Weapon Meister Academy as a strict teacher, and her strong ability of hierarchy earns her the title of "King of the Tattletales."
Mari Makinami Illustrious from Evangelion: 2.0 You Can (Not) Advance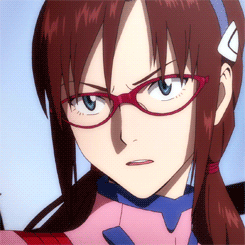 Mari Makinami Illustrious is a mecha pilot tasked with preventing human extinction and she handles it quite well. Contrary to Shinji Ikari and other traumatized Eva pilots, Mari openly enjoys fighting the Angels, even singing as she rides into battle.
Owing to her outgoing attitude— She doesn't seem as a traditional meganekko, the glasses are essentially just to set her apart from the others. Given other aime girl's docile nature, Mari's essentially an inversion. Mari is as heroic in battle as she is beautiful in glasses.
Anri Sonohara from Durarara!!
Apart being quiet and timid on the outside, Anri is intelligent and cares deeply for her close friends. This anime girl with glasses is one of the few who freely swings swords. She is the bearer of the supernatural sword Saika that allows her to control whoever she cuts, but also causes massive psychological damage to the wielder.
Yuki Nagato from Suzumiya Haruhi no Yuuutsu (The Melancholy of Haruhi Suzumiya)
Owing to the popularity of this anime girl with glasses, Yuki has even got her own spinoff series. The original anime based on the light novel, Nagato Yuki is presented as an expressionless, intelligent alien, but in Nagato, Yuki-Chan is disguised as your traditional glasses girl being shy and easily-flustered human member of the school's literature club. Well, in both series, she aces the glasses perfectly!